If you wanted a cocktail in the late 1920s, you'd ask for a "giggle water"; an alcoholic beverage and the namesake inspiration for Gigglewaters, the restaurant, bar, and one screen classic movie theater in the heart of downtown Safety Harbor.
When owners Richie Wilson & Rachel Fine moved to Florida from Brooklyn in 2015, they were happy to trade snow for sunshine. They missed some of their favorite New York City haunts and started conceptualizing a way to bring some of those best gems together to create a truly unique dining and entertainment experience for their new hometown. Missing the old architecture of NYC, they decided to create a speakeasy-style establishment that celebrated the prohibition era and found the perfect building with a rich history in the heart of downtown Safety Harbor. They added tin ceilings, Edison lighting, and a custom bar built of upcycled wood from the historic Belleview Biltmore, circa 1897.
And while the look may be swanky, the menu is anything but pretentious. It's classic American comfort food, kicked up a notch- over a dozen unique, delicious pure Wagyu beef burgers, bacon-wrapped deep-fried quarter-pound hot dogs piled high, housemade Butcher Block Bacon soaked in bourbon & brown sugar, ridiculous mac & cheeses and an award-winning cocktail list. They incorporated some of their NYC favorites, like Frito pie and ricotta cheesecake. The menu is as craveable as it is inspired and was featured on Travel Channel's Man v. Food for that reason.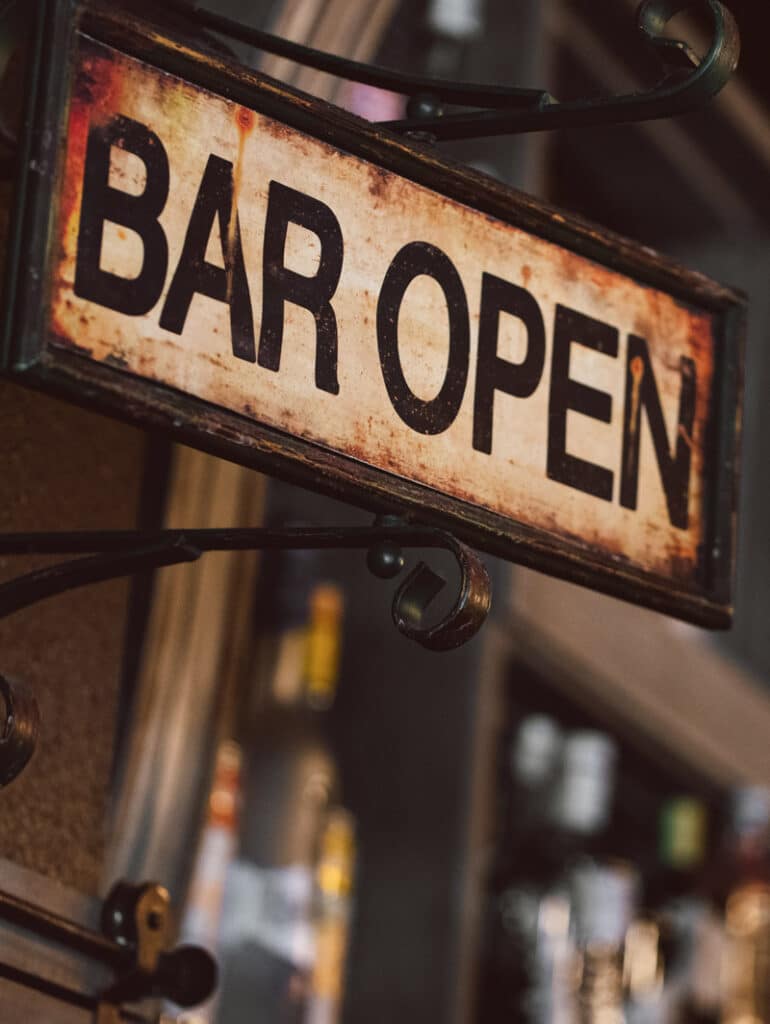 You can join us for a meal in the dining room or you can walk through the double doors in the back and into an intimate, 32-seat movie theater that shows classic movies while you eat. We show an array of favorites, from The Goonies to The Godfather. The theater is full service; the entire menu is available while you watch (or sing-a-long to) your favorite flick. You can see this month's movie lineup and get your $5 tickets
HERE
.
Gigglewaters isn't just a restaurant, it's an experience. We've had proposals and full weddings, hosted family reunions, watched Die Hard on Christmas and rang in every New Years Eve with our infamous Rocky Picture Show four course dinner event. We believe in bringing people together to a place of a thousand good times. Your best night out, an experience you can't help but love. Stop in and grab a "giggle water" with us today!
FRANK FINE - PRESIDENT
Frank has over 30 years of hotel and restaurant experience and served as SVP of American Inns Management, specializing in crisis management and company development with hotels and restaurants in Arizona, Nevada and California. He directly oversaw 75 hotels, restaurants and marinas and owned a number of his own. Frank is also a nationally certified counselor who specializes in critical incidents. He has been deployed as a first responder at the World Trade Center at 9/11, after major hurricanes, shootings and other national disasters for the past 30 years.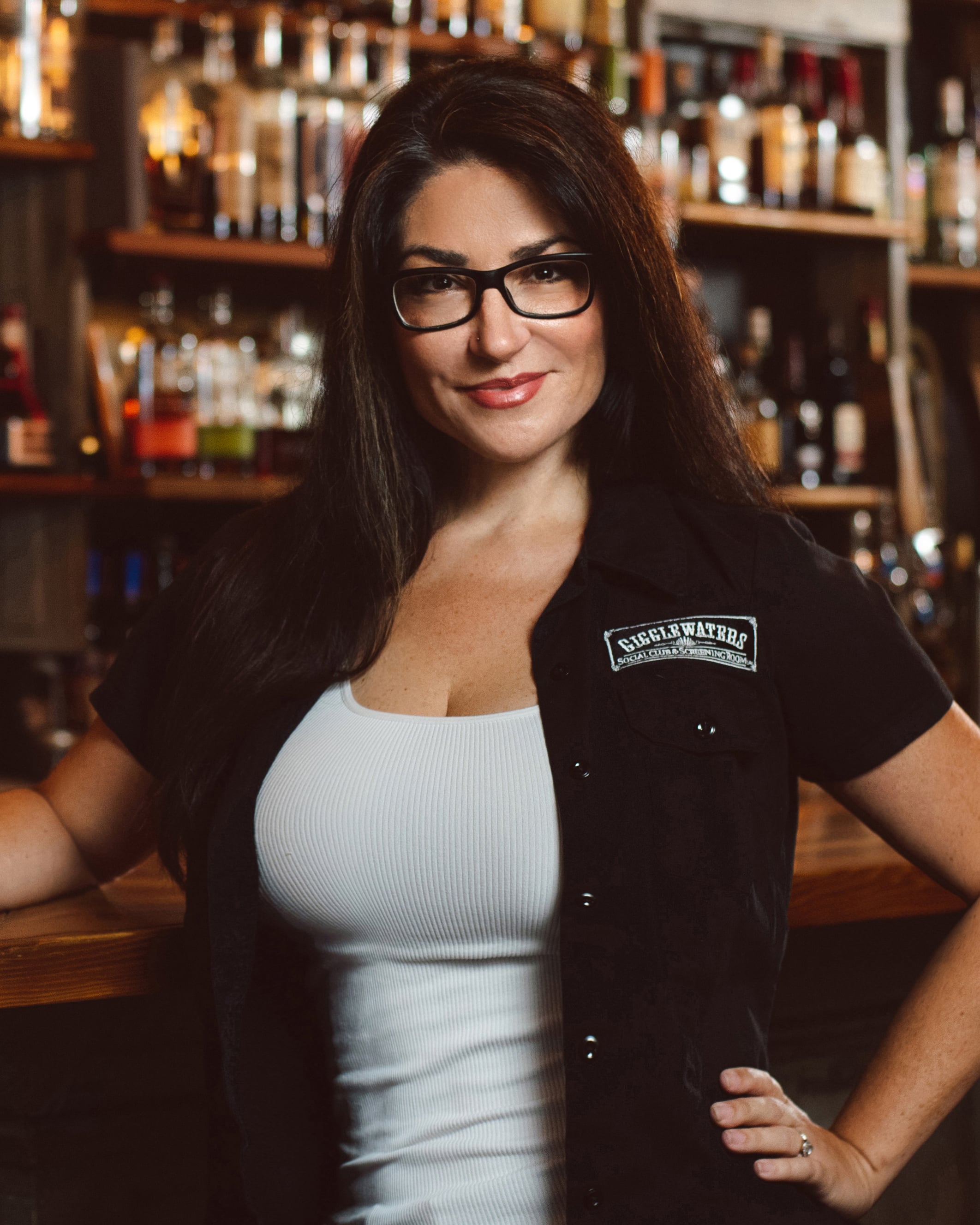 RACHEL WILSON - CEO
Rachel has more than 10 years of experience in franchised business management with supplemental education companies. She has worked in television for a number of years as well, hosting multiple TV shows for Howard Stern and as a ghost hunter on The Travel Channel. Rachel directed the build-out of the flagship Gigglewaters and was its first General Manager. She built the brand and drove operational and marketing strategy from day one.
RICHARD WILSON - CCO
Richie spent 17 years as Senior Broadcast Producer of the Howard Stern Show. Richie is also well known as the inventor of the viral sensation "Shittens", which Redbook said, "broke the internet". Here at Gigglewaters, Richie drove the creative direction, from decor and design to movie selections and creative promotions.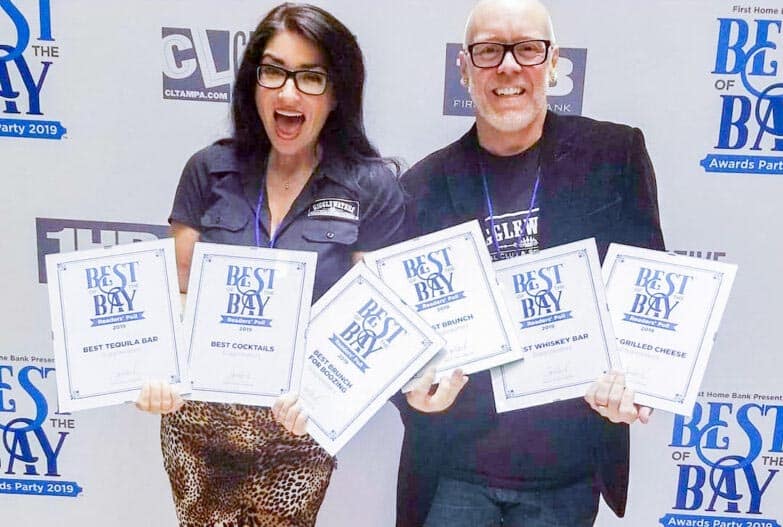 Gigglewaters is honored to have been recognized as winners of the following awards:
2018
Best of the Bay
Best New Restaurant
Beer & Burger Throwdown
Best Signature Burger
2019
Best of the Bay
Best Cocktails
Best Brunch
Best Brunch for Boozing
Best Whiskey Bar
Best Tequila Bar
Best Grilled Cheese
2nd Runner Up for Best All Around Restaurant, Behind Bern's Steak House
2020
Best of the Bay
Best Burgers
Best Whiskey Bar
Best Neighborhood Bar in Pinellas County
Best of Safety Harbor
Best Gourmet Popcorn
2021
Tampa Bay Times: Best of the Best
Best Cocktail Bar in Tampa Bay
Best Neighborhood Bar in Tampa Bay
Best of the Bay
Best Neighborhood Bar in Pinellas
Best Safety Harbor Restaurant
Best Grilled Cheese
Best Gourmet Popcorn
2022
Tampa Bay Times: Best of the Best
Best Hamburger Restaurant
Best Brunch
Best Cocktail Bar
Best Romantic Restaurant
Best Neighborhood Bar
Best of the Bay
Best Whiskey Bar
Best NeighborhoodBar Pinellas
Best of Safety Harbor
Best Waitstaff
Best Grilled Cheese
Time Out
Named one of the 11 Best Restaurants in Tampa
Visit St. Pete/Clearwater
Best Cocktails
Featured on Cooking Channel's Man vs. Food
Join the fun. We promise not to spam you.
Gigglewaters
737 Main Street
Safety Harbor, FL 34695
View on map
Mon-Thurs: 11am-10pm
Fri: 11am-11pm
Sat: 9am-11pm
Sun: 9am-9pm
Private parties: Our 32-seat movie theater is available for private rentals!
Email events@gigglewaters.com to schedule your party today.
Reservations: We generally do not take reservations. For parties of 12 or more, please email events@gigglewaters.com.
Food Truck: Bring the giggles to you! To book the GiggleTruck for your next event, email FoodTrucks@Gigglewaters.com.
Copyright © 2022 Gigglewaters, LLC | Terms & Conditions & Privacy Policy