The Latest Press from Gigglewaters
Bar Review: Gigglewaters is a Modern Speakeasy in Safety Harbor
Every time I think the speakeasy theme is dead, I run into a place that breathes new life into it. This time, it's Gigglewaters Social Club & Screening Room, a new addition to downtown Safety Harbor…
Safety Harbor's Gigglewaters Social Club and Screening Room Reopens to Public
Gigglewaters in Safety Harbor adapted to the coronavirus shutdown in many different ways.
The modern speakeasy closed down their bar area to customers and, instead, offered curbside pickup and delivery orders…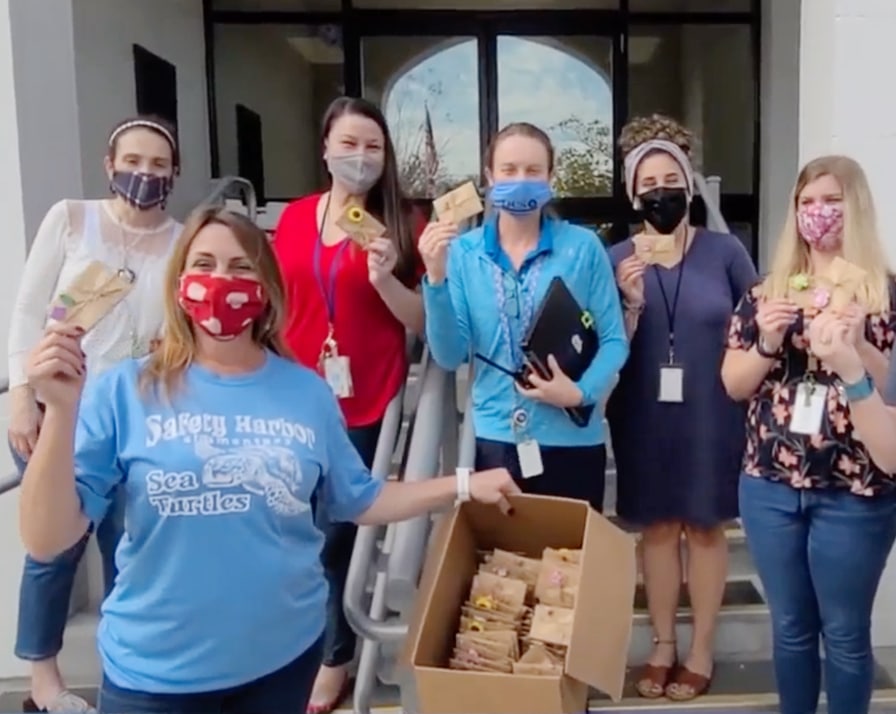 Gigglewaters Restaurant Sends Love to Teachers at Bay Area Schools
With some personal flair and a whole lot of love, Rachel and Richie Wilson owners of Gigglewaters in Safety Harbor have aimed cupid's bow…
Restaurant Feeds 71 School Staff Members and Plans to Feed More
Gigglewaters in Safety Harbor has fed first responders, the homeless and people in unemployment lines since the start of the COVID-19 pandemic…
Gigglewaters Makes The 11 best Restaurants in Tampa on The Eat List
The casual eatery serves everything from burgers to loaded macaroni and cheese, but the real star of the show is the hidden movie theater in the back of the restaurant. Here you can sit and watch a classic or recently released film while you munch on your meal and sip a cocktail…
Gigglewaters Shows Black Panther to Raise Money for American Cancer Society
Gigglewaters opened its doors to screen the acclaimed film Black Panther. The powerful Marvel film stars the late Chadwick Boseman as T'Challa. Proceeds from the screening of the film will be donated to the American Cancer Society…
Safety Harbor's Gigglewaters Social Club and Screening Room Reopened to Public
As of Tuesday, May 19thm 20202, Gigglewaters received word that they would be allowed to reopen their screening room. Rachel explained to WFLA.com that her business was taking several safety precautions in an effort to protect customers… 
Stormy Daniels and Her Haunted Doll Looked for Ghosts at a Safety Harbor Restaurant
The adult star-turned-paranormal investigator came to Gigglewaters for the boos and stayed for the brews…
Gigglewaters in Safety Harbor Begins Operating Under New Rules
During the shutdown, Gigglewaters' owners decided to do what they could to help others. They've delivered meals to hospitals, provided free meals to those unemployed, and now they are grateful to be able to reopen their expanded patio area… 
Gigglewaters Opens as a Modern Speakeasy in Safety Harbor
It's called Gigglewaters, and it is a name that is a throwback to the prohibition days as a code for a cocktail. The whole concept has a fun retro feel to it. The owners call it a social club with a screening room…
Gigglewaters on The Morning Blend
When owners Richie Wilson & Rachel Fine moved to FL from Brooklyn in 2015, they decided to create a speakeasy-style place that celebrated the prohibition era with some modern twists…
Gigglewaters
737 Main Street
Safety Harbor, FL 34695
View on map
Mon-Thurs: 11am-10pm
Fri: 11am-11pm
Sat: 10am-11pm
Sun: 9am-9pm
Private parties: Our 32-seat movie theater is available for private rentals!
Email events@gigglewaters.com to schedule your party today.
Reservations are not required or accepted. For parties of 12 or more, please email events@gigglewaters.com.
Copyright © 2022 Gigglewaters, LLC | Terms & Conditions & Privacy Policy